The Irish Times has published one of those touchy-feely articles about how the Rohingya, who have already arrived in Ireland, are faring.  Articles like this one are meant to 'educate' readers in advance of a new wave of Muslim migrants coming in from countries where warring factions are producing 'refugees' by the millions.


We are told that Ireland had some problems (the Times calls them "hiccups") with Muslim teenaged boys and young men who didn't want to stay in school, but that generally the Rohingya are doing well.  However, they aren't happy with the modest mosque they found in their new town:
There were other problems. Assured that by the Irish authorities that Carlow had a mosque, and imagining a full minaret, the new families arrived to find just a house used by the town's tiny Muslim population. For orthodox Sunnis who had escaped religious persecution in Burma it was a disappointment. They now worship at an apartment in the town.
Rest assured, as more arrive from throughout Asia and the Middle East, some rich country (United Arab Emirates? Saudi Arabia?) will build them a lovely mosque.  The mosque will then draw in more Muslims (take note Carlow!).
You can read the whole article here.
The Irish Times does admit this:
Some aren't so sympathetic. This week an Irish Times poll found that 52 per cent of Irish people are against taking in fleeing Mediterranean migrants.
And, see this one from earlier in the week about the next batch of mostly Muslim refugees on the way.
But, at the end of the story published today, there is a useful summary of where Ireland stands now with the arrival of migrants (thanks to the UN High Commissioner for Refugees) as part of the 'Invasion of Europe.'
Ireland is one of only 30 states that take part in the refugee resettlement scheme, a United Nations programme.
Since it began here, 15 years ago, 1,198 programme refugees, from 27 countries, have been resettled in Ireland.
The UN declares them refugees before they arrive in Ireland, and they do not go through the direct-provision system for asylum seekers.
Three hundred refugees are due to come to Ireland under a new EU scheme. Civil war in Syria and the large numbers of migrants trying to cross the Mediterranean in dangerous boats have made the need even more pressing.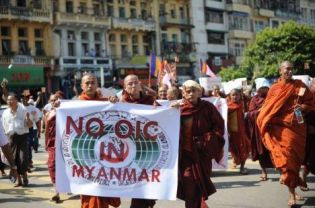 In 1999, Ireland agreed to take 1,000 Kosovan refugees; they were resettled in Millstreet, Co Cork; Killarney; Waterford; and Wexford. Many later returned home.
In 2006, 180 Iranian Kurds who had been living in refugee camps in Jordan for 25 years were resettled in Carrick-on-Shannon and Dublin under a UNHCR programme.
In 2007, 100 Burmese Karen people were resettled in Ballina and Castlebar, after coming from Thailand under the UNHCR programme.
In 2008, 71 Sudanese were resettled in Kilkenny city, after transferring from Uganda, also under the UNHCR.
In 2009, 13 Burmese Rohingya families – 64 people in all – were resettled in Carlow town from Bangladesh, under the auspices of the UNHCR.
In 2013, 31 Afghans and four Iraqi Palestinians were admitted from Syria.
In 2014, 90 Syrian refugees fleeing their country's civil war were resettled from Lebanon with relatives and friends around the country.
This year, 13 Syrian refugees of a projected 100 have arrived; 120 more people, also mainly Syrian, are due next year.
Ireland has separately agreed to admit 114 other refugees under a Syrian humanitarian admission programme.
See our entire 'Invasion of Europe' archive by clicking here.
Also, for more on Rohingya then you ever wanted to know, see our Rohingya category here with 176 previous posts.  There is a newly energized push to get Rohingya Muslims moved to first-world countries.
Every time I see one of these articles about the "persecuted" Rohingya without any mention of the atrocities perpetrated by the Rohingya against the Buddhist Burmese, my blood boils.  I have followed the issue in Burma and Bangladesh for years and know that the Rohingya are not pure-as-the-driven-snow and have been Islamist supremacist agitators and killed many Burmese, but that is NEVER mentioned by the likes of the Irish Times!
To my Irish friends:  See this youtube clip about this blog and how I got into all of this…..it is now over a half a million views!