….by funding citizenship and training services.  You will recognize some of the usual suspects, not just getting grants from the Office of Refugee Resettlement but also from Homeland Security which makes finding all of their federal bucks more complicated.
This is from reader 'Julia' who found this list of grantees for "Citizenship and Training"at USA Spending.gov.  For a little summer Saturday fun, check out the over $30 million that has been expended so far through quasi-non-profit groups (I hope someone is monitoring how all this taxpayer money is being spent!).
Julia especially noted the DACA grants. By the way, just this week the HuffPo reported on how many Dreamers have signed up and how it's going, here.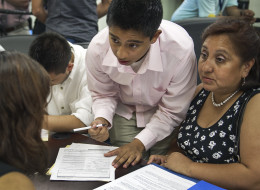 Julia:
Below is a list of organizations that received funding for Citizenship and Training programs from the Department of Homeland Security.  Funding for these programs began in FY 2010.  Most of the organizations provide other services to the immigrant population.  Note the organizations that provide assistance with DACA (Deferred Action for Childhood Arrivals).  Also, note the organizations that coordinate their efforts with other organizations.  Website information for the organizations is still being completed and will be updated.
It seems that if DACA is expanded through executive order, there is already a network of organizations in place to facilitate the DACA application process.  Please note that this list is not a compilation of all organizations that provide assistance with DACA.
One of the first on the list to sign up new citizens (and be sure to check out the $$$ going to the Colorado African Organization):

Arab Center for Economic and Social Services