The Punjabis come from Eastern Pakistan or Northern India and they are coming to the US illegally with some seeking asylum in ever-larger numbers.  The primary religions of Punjabis are Islam, Hinduism and Sikhism.  Most of those in our post today appear to be Sikhs.  Reader 'pungentpeppers' has come across these important stories over the last few days.
First, this one is from The Tribune in India.   I'm sure when the Lutheran Immigration and Refugee Service hears this news they will want to take the "youths" home with them— not to their neighborhoods, but to yours!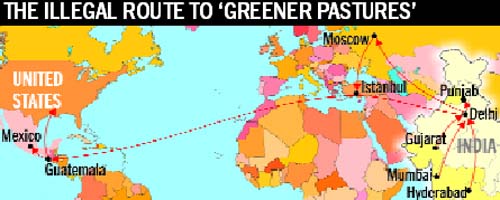 The Tribune (India):
The well-oiled human trafficking network and business, involving the ferrying of hundreds or thousands of Punjabis to North America, is alive and kicking. Unscrupulous travel agents operating from the USA and New Delhi are minting money from these shady deals.
As many as 64 Punjabi youths [numbers vary, some reports say 40, this one 64 and yet another says 100—ed], who travelled across more than half the world in search of greener pastures, have been detained in El-Paso processing centre (jail) in Texas, USA.
Forty-two of them are on hunger strike against their prolonged detention and the jail authorities' "inhuman" action of withdrawing communication and other facilities to them. The startling revelations made by some detainees there and their families in the Doaba region of Punjab has indicated that human smuggling to the USA by travel agents from India is going on unabated.
[….]
At times, youths (mostly from India and Pakistan) were concealed in containers — having little air or almost no food and water for days — for the purpose of shipping them to North America.
One account of the "youths" (believed to be young men in their twenties) has them coming through Cuba as well.
In that same story,  we learn that the North American Punjabi Association has gone to their defense, but ICE says there are no hunger strikers among the "youths."
And, as for this "greener pastures" comment it tells us these are economic migrants not legitimate asylum seekers.  By the way, some think if they are granted asylum they can never go back "home," but that was not the case with that charming Tsarnaev family (of Boston bombing fame)—we know they traveled back and forth. And, we have had many reports of Somali 'refugees' traveling back to Somalia (even though they claimed they needed protection from persecution).
What about persecuted Americans?
California:  Punjabi "youths" arrested for ATM robbery of former Marine
From the San Jose Mercury News:
FREMONT — Two men and a teenager were arrested Wednesday on suspicion of robbing a retired U.S. Marine at a bank ATM last week, authorities said.
Prabhleen Singh, Manjot Dhillon, and a 17-year-old boy were arrested in connection to the April 9 armed robbery in Fremont, police said. The arrest came hours after authorities released surveillance photos of the suspects.
Police say the 67-year-old was using the ATM at a Fremont Bank of America, located at 46650 Mohave Drive, at 1:05 a.m. when a Mercedes car pulled up. Singh, 22, of Fremont, allegedly got out of the car, pointed a gun at the victim and demanded his wallet. The former U.S. Marine threw his wallet to Singh, authorities said.
Dhillon, 24, of Union City, allegedly drove the getaway car. Authorities did not release the 17-year-old's name because he is a minor.
Will the North American Punjabi Association be coming to their defense?
Looks like one more ethnic group adding diversity to our cities and towns that we need to keep an eye on.