Just when I thought it was safe to move on to another topic, along comes one more news story about why a Somali refugee boy stowed away in the wheel well of a jet bound for Hawaii.
In our previous post this morning we reported that CAIR was acting as a spokesperson for the family (blathering about immigrants being bullied in school) and never mentioned the boy's desire to go home to Africa to be with his mother.    At the same time Voice of America is reporting that according to law enforcement officials in Hawaii, that is what the boy told them.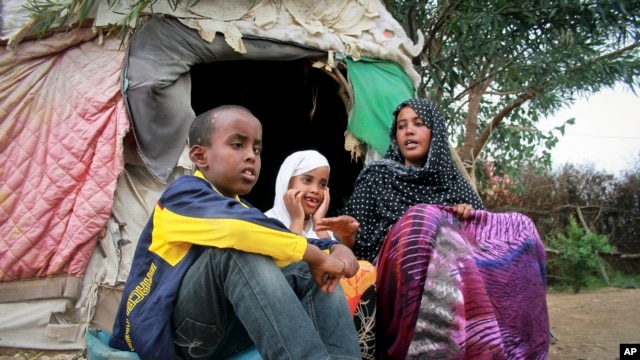 Meanwhile, VOA, says the whole family would like to go back to Africa (if it was safe).
We should be grateful for this boy's great adventure because it is producing a copious number of main stream media reports and thus bringing the whole Somali refugee migration issue into more American's living rooms.
What led 15-year-old Yahya Abdi to jump a fence at San Jose International Airport and stow away on the jetliner bound for Maui?
According to unidentified law enforcement officials, the teen, who lived with his father, had argued with relatives and was trying to reach his mother in Somalia. In reality, she lives in an Ethiopian refugee camp that is home to about 10,200 displaced Somalis, a United Nations official told the Associated Press.
In two separate VOA interviews, both parents mentioned that extreme homesickness might have prompted Yahya to attempt the dangerous trip.
Abdullahi Yusuf, Yahya's father, spoke to VOA's Somali service in an exclusive interview last week.
"He was always talking about Africa, where his grandparents still live," Abdullahi said. "… We all wanted to go back, but due to the security and living conditions there we could not go back."
Speaking to VOA Somalia Service from Sheed Dheer, the refugee camp, Ubah Mohamed Abdullahi said her son was homesick. She blamed the father for their son undertaking the dangerous journey.
Fractured Somali families:  kids miss Mom.
Hashi Shafi, executive director of the Minneapolis-based Somali Action Alliance, said the California teen's story is only one example of many fractured Somali families.
"I know a lot of young kids in Minnesota who have been struggling with life lately," Shafi said, "and when you talk to some of them, they tell you that they are missing their mother whom they haven't seen for 10 to 16 years."
So how come so many are missing Mom?  Could Mom be wife #2 or #3 and hubby had to choose just one in order to be eligible for refugee resettlement.  (LOL!  I am not advocating bringing all of the wives to America, just pointing out that due to this huge religious and cultural difference, we have families "disintegrating" and many messed up kids!  Diversity is so beautiful!).
Illegal alien Somalis in US too!
VOA then gives us a comment about a Somali illegal alien who traveled across the globe (not apparently having asked for asylum in the many safe countries he traversed) to get to our southern border, and now says, gee, I miss my family!   Here is an idea! Let's reunite them—in Africa!
Huge numbers of young African immigrants, among them significant portion of Somalis, risk their lives in search of a better life in Europe and U.S.
But for many of them, reality turned out to be far removed from their hopes.
Sa'id Gure took a long, perilous journey from Somalia through the Middle East, Eastern Europe and Mexico before reaching the United States. The 20-year-old said he misses his parents and siblings.
Again, this disillusioned 20-year-old is an illegal alien!  We admit thousands of Somalis into the US every year as legal refugees, so why didn't he just get in line in Africa?
And, by the way, where did this poor kid get the money needed for his globe-trotting adventure to our Mexican border?  Why the h*** doesn't some reporter ever ask that question?