What a racket!
This is from a recent press release from the International Rescue Committee (IRC) about their employment training for refugees! in California (where the unemployment rate is very high).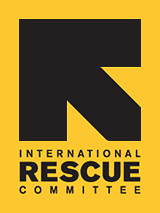 Regular readers know that the IRC is the non-profit group that receives millions from the US taxpayer as a US State Department contractor, one of nine right now, who have a monopoly on bringing refugees to your towns and cities (I recently read that the IRC is bringing refugees to twenty-plus US cities).
Just last week the IRC was all over the news when it hired British former Foreign Secretary and man with a banana, David Miliband, to replace George Rupp as its CEO.
When I read over the IRC press release just now, I wondered when I will see it in its entirety, printed without changes, in some media outlet too lazy to do its own story.   Readers! Let me know if you see this as a news story somewhere!
Does no one ever question whether this type of job training just for refugees, a special class of people, is even Constitutional.  We know it's legal (here) but doesn't it use your tax dollars to discriminate against other classes of job seekers?
Someone in California (a white American) should go to the IRC for job training and be turned away then sue their pants off—I don't think anyone has challenged the Refugee Resettlement Act of 1980 in this way.
By the way, when that law was passed it was made clear that refugees must work (not just be a drain on social services) and the bottomline now is that the unemployment rate for refugees is really high (46% or more for Iraqis), so these resettlement agencies are in a tizzy to get the refugees a job—any job!
Here is the release:
 Refugees arrive in Los Angeles to rebuild their lives with little more than a few contacts, enterprise and resilience. Getting their first job is the linchpin of the resettlement process as they seek to establish financial stability and independence.
But as refugees enter the marketplace of their new communities, they must overcome a new obstacle: breaking into a competitive job market.
A refugee's first job sets the stage for their resettlement experience, according to International Rescue Committee Employment Specialist Luisa Gavoutian.
[…..]
The job search in Los Angeles is a struggle for refugees and American citizens alike. Los Angeles County's unemployment rate increased slightly to 10.4% in January while the state's unemployment rate remained at 9.8%.
But for recently resettled refugees, the challenge is even harder.
"You're struggling against not only the economy and job market, but also language, community and capacity challenges to expand your network," according to IRC Immigration Outreach Specialist Angineh Torosiyan.
Federally-funded but the IRC gets all the credit:
For al Janabi, Norouzi and other refugees in Los Angeles, the IRC is a trusted point of reference as they navigate the job market. The IRC's Early Employment Program helps refugees with diverse professional backgrounds, as well as those who have never worked before, overcome network and employment barriers.
 
The federally-funded program assists refugees in every aspect of the job search process, from building resumes and submitting applications to interview practice and workplace etiquette. Refugees meet with a job mentor for one-on-one support and attend job readiness workshops each week. Program staff, interns and volunteers build relationships with local businesses in the community and serve as a bridge between refugees and potential employers.  [No bridges for the poor American schlub!—ed]
In a recent Form 990, the IRC received $247 million from YOU in a budget of $431 million!   Maybe they could start using their own privately-raised money for programs like this discriminatory one!   I don't think this is Constitutional!