Welcome to Cleveland!   While 'Welcoming America' is busy trying to persuade Cleveland that diversity is beautiful and that they need more of it, some of their diversity has figured out how to scam the US taxpayer out of $2 million!
First have a look at the news from La Prensa about how bringing more diversity to Cleveland will improve the economy:
Embracing a more proactive immigrant friendly vision for Cleveland, Global Cleveland partnered with MetroHealth Medical Center and Welcoming America to lay groundwork to transform the city. Nearly 250 guests attended the movie and post discussion at MetroHealth Medical Center on July 16, 2013.
And here we have David Lubell again out hocking that Shelbyville propaganda film!  Lubell's organization was recently hired by the Office of Refugee Resettlement to sell reluctant cities on the idea of "welcoming" refugees.  La Prensa continues: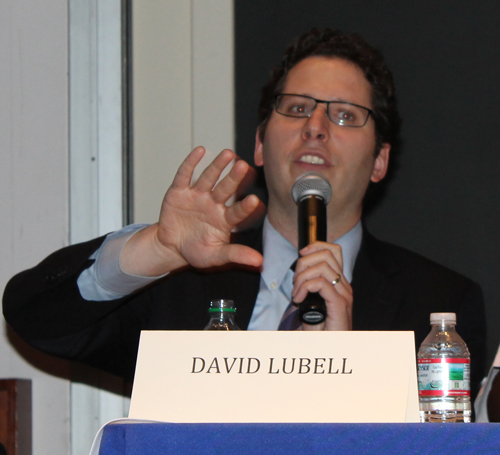 "We often dismiss people with fear," said David Lubell, executive director of Welcoming America, which is a critical mistake in the effort to transform the mindset of a community. Welcoming America is a national nonprofit organization working to improve immigrant integration by direct engagement through individual and group efforts to create local initiatives that facilitate cultural understanding and ease transitions.
Lubell said all communities are different; some have less distance to do and working with Global Cleveland and other partners Welcoming America will determine where the city stands to best address its needs. Lubell said there is intense competition brewing amongst cities to become the most immigrant friendly city in the United States and attract global talent.
Global talent!  That is a good way to describe the major (many are Muslim or Middle Eastern) network of bright convenience store food stamp scammers!   Cleveland is about to lose three of its most talented Arabs.
From ABC 5 in Cleveland:
BROOK PARK, Ohio – Three Brook Park men have been indicted for defrauding the food stamp program out of $2 million at four Cleveland stores.
The United States Attorney's Office of Northern Ohio said brothers Saed and Maher Wahdan, along with the help of Nidal Jaber, accepted food stamps for ineligible items like beer and cigarettes.
All three men have been indicted on counts of conspiracy to commit food stamp fraud, food stamp fraud and unlawful redemption of food stamps.
U.S. Attorney for Northern Ohio Steven Dettelbach said that attempts will be made to recover stolen money.
"The food stamp program has provided nutritious food to thousands of hungry families over the years," he said. "We will continue to work to recover money stolen from the program and eradicate waste, fraud and abuse of government programs."
Between January 2008 and March 2012, the three men attempted to commit more than $2 million in food-stamp fraud through four of their businesses that were held under different names to conceal Saed Wahdan's prior food stamp convictions, authorities said. Those stores were One Stop Beverage, 5105 Franklin Blvd.; Bridge Deli and Beverage, 4700 Bridge Ave.; Franklin Beverage and Deli, 4719 Franklin Blvd., and Scott Food Mart, 951 Linn Drive.
The three men used their businesses to exchange customer food stamps for cash and other unauthorized items. They also bought food stamp cards from customers to use at other grocery locations to get inventory for their stores and for their personal use, according to the indictment.
The indictment seeks to forfeit the businesses run by the Wahdans.
Food stamp fraud is a side interest of mine at RRW.  We have an extensive archive on cases like this one (click here).
As each year passes and our archive grows I still hold out hope that some real investigative reporter will dig into this story—how do all these immigrants acquire these Mom & Pop grocery stores and then go into the food stamp fraud racket?   And, every time I hear the likes of Lubell say immigrants are entrepreneurs and open shops, I can't help but think of these food stamp scammers.