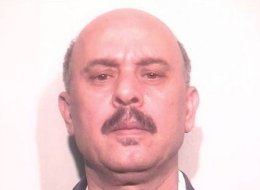 Update February 8th:  Prosecutors seek the death penalty for Abou-Arab, here, (hat tip: Diane).
Update:  Bond set at $5 million for Abou-Arab, here.  Judge must be afraid he will skip the country.
Let me start by telling you about the tragic tale involving the alleged murder of two fire fighters in Toledo a week ago.
Ray Abou-Arab, an immigrant 'businessman,' has been arrested and charged with intentionally starting a fire which took the lives of two young firefighters.  The gist of the story is here at The Blade (hat tip: 'pungentpeppers')
Less than a week after two Toledo firefighters died battling a North Toledo apartment fire, the property's owner was charged with and arrested on two counts each of aggravated murder and aggravated arson.
Ray Abou-Arab, 61, of 1311 Sierra Dr., Oregon was held in the Lucas County jail Friday night pending arraignment Monday morning in Toledo Municipal Court.
Fire Pvts. Stephen Machcinski and James Dickman were pronounced dead Sunday afternoon at Mercy St. Vincent Medical Center after being rescued from inside the two-story apartment building at 528 Magnolia St., where they had become trapped.
Abou-Arab has been around Toledo for awhile and some say he has been involved with questionable arson fires involving property he owned in the past.
When you watch the lengthy TV news account, here, you will see shots of Abou-Arab just hanging around and not looking too troubled.  Toward the end there is some mention of an illegal substance being sold from a convenience store in the same building he is accused of igniting that resulted in the deaths of the firefighters.
So, Toledo (Lucus County) is having such success with its immigrant entrepreneurs that they announced in December that they will "welcome" 30 Iraqis through the US State Department's refugee program!
From ABC13 (be sure to watch the news clip!):
Beginning around the first of the year, Toledo will become an immigrant resettlement city.   It's a story we first told you about back in July but now the pieces are in place to make the program a success.
The United States government is looking for communities that can welcome about 30-Iraqi families.  Toledo has a long history of welcoming immigrants [like Ray Abou-Arab?–ed] and now it has a social structure that can help.
These communities like Toledo think they are going to make money off refugee resettlement!  The reason that the State Department has 'chosen' Toledo is that other cities are full-up with economy-robbing refugees. Don't you think that if refugees brought economic benefits that the cities that were already (supposedly) 'booming' as a result would be begging for more?
"New folks, new friends, new families that added value to our community."
Lucas County Commissioner. Pete Gerken (D) says other immigrants want to build a future here, as well.
The State Department is looking for communities to welcome new refugees from Iraq, in 2014 and Gerken says they should come to Toledo.
He says, "What we found is they come here from other places, bring talent with them, bring family values with them, bring a work ethic with them."
And, in some cases, they bring a life savings with them.
The Toledo Lucas County Land Bank is now part of this refugee resettlement program and will link immigrants with properties to help them build a life.
[…..]
….buy abandoned commercial sites,  build a business, create jobs and contribute to the community. [Just like Ray Abou-Arab did?—-ed]
What studies???  It's amazing—they just say this sort of thing and the locals lap it up!
Anneliese Grytafey (Toledo Community Foundation) says studies indicate a financial gain.  "For every dollar that was invested to bring refugees into the community they saw a $10 dollar gain to their local economy," Grytafey told 13abc.
The local economy gains for awhile as federal dollars flow in, but as the refugees don't find work (Iraqis are not finding employment elsewhere, why would Toledo be any different?) and rely more and more on welfare, the local economy takes the hit.
About the flag!  Whoever made up the graphic in the ABC news clip took Saddam Hussein's 'God is Great' (Allahu Akbar) off the old Iraqi flag and superimposed it on to the American flag's stripes, here.
Maybe this is code from the US State Department—only Muslims will be resettled in Toledo!