Editors note:  Mike is a reader (mikefromlongisland) who commented extensively, here, in the last few days about why and how the Lutheran Immigration and Refugee Services (a 501(c)3 charitable organization) could be lobbying on bills before Congress.  (Imagine your local Tea Party doing such a thing with a 501(c)3 designation—but oops!  Tea Parties aren't being granted any type of tax-deductible status).
Do all of you Lutherans out there agree with what is being done in the name of your faith?
These are hardcore open borders advocates pushing for more Afghans and Iraqis to be admitted to the US.   This disingenuous article in the Army Times quotes ADVOCATES (aka LOBBYISTS) for two federal refugee resettlement contractors lobbying hard for passage of S.744—Comprehensive Immigration Reform.  (Our archive on the legislative train wreck is here)
Nevermind that they will financially benefit greatly from passage of the Gang of Eight plus Grover bill should it become law.  Their beef this time is that Special Immigrant Visas will be in jeopardy if this bill isn't passed pronto.
Remember, the Special Immigrant Visas law for those who "helped" America in the wars in Iraq and Afghanistan was inserted into a Defense Authorization bill in the dark of night.  Now, it is up for renewal and its extension was slipped into S. 744 (once again no hearings on it).
Maybe before you read the Lutherans view of the Special Immigrant Visa provision in S.744, check out a different view at World Net Daily by Aaron Klein.
Here then is the Army Times (reprinted from Medill News Service).  First they seek to scare readers that some poor translator is going to be beheaded in Iraq or Afghanistan if this program goes away (keep in mind they have had since 2008 to apply):
A law providing special visas to Iraqi and Afghan nationals in danger for helping the U.S. military suffered a blow when the House rejected the Senate's immigration reform bill Wednesday.
Many of the refugees and their families face grave threats in their homelands as a result of their U.S. government affiliation, and thousands have been killed by their own countrymen, advocacy groups say.
In 2008, Congress passed legislation providing Iraqi and Afghan refugees who assisted the U.S. with special immigrant visas. This included contractors, translators and guides. The 5,000 visas allotted annually to Iraqis are set to expire at the end of September, while the 1,500 visas allotted annually to Afghans will expire in September 2014. The immigration bill would make the visas available until September 2018.
Only 50 special visas are allotted annually for Iraqi and Afghan translators. But in fiscal 2007 and 2008, an amendment to the 2006 National Defense Authorization Act allotted 500 visas for translators.
From fiscal year 2008 to March 2013, 11,647 visas have been allotted to Iraqi and Afghan refugees and 1,693 to translators, according to State Department data.
Director of Advocacy=lobbyist!
Those who benefit from the visas are in immediate danger, said Brittany Nystrom, director of advocacy at the Lutheran Immigration and Refugee Service.
With the immigration reform bill stalled, advocacy efforts have focused on pushing through the visa provision by other means, Nystrom said.
The provision has also been attached to the Senate and House's National Defense Authorization Act for fiscal year 2014.
Apparently, before taking the lobbying job for the Lutherans, Nystrom lobbied on immigration for the pro-open borders group —National Immigration Forum headed by Ali Noorani. (See photo from the Congresswoman's website)  We told you about Grover Norquist's special pal Ali Noorani here in February.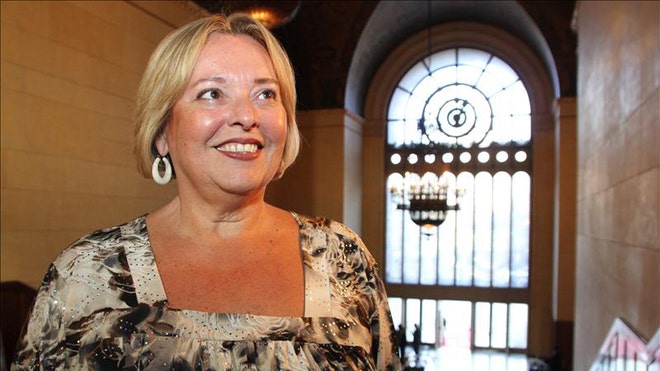 And, of course we would expect Ms. Limon to show up in this story.  Now head of a federal refugee contractor, she was Clinton's director of the Office of Refugee Resettlement (the revolving door!).  Here is one of many posts on the lobbying Limon.  And, here she says hire a refugee rather than an American!
The Army Times story continues:
The versions differ slightly in eligibility and the number of visas allotted, but the major difference in the authorization bill is that visas for Iraqis are only extended to 2014, said Lavina Limon, president and CEO of U.S. Committee for Refugees and Immigrants.
She said she hopes the version on the immigration reform bill will pass because there are fewer restrictions and the visas would be extended until 2018 rather than 2014 for Iraqis, although she said she is not optimistic.
While there is general agreement that the Iraqis and Afghans, who have provided invaluable support to the U.S., deserve retribution, the program needs a lot of work, she said.
We have no lobbyist in Washington!
Those of us who want to see reform of refugee resettlement, perhaps even a halt to this whole Refugee Resettlement Program have no one in Washington pressing our interests.  Some of the big immigration restriction groups touch on refugee issues from time to time, but really there is no one to counter the huge resources of the contractors who can hire lawyer/lobbyists like Nystrom.  Adding insult to injury—you are paying Nystrom's salary!
See 'Don't break our rice bowls!'
 Have a look at a recent Form 990 for Lutheran Immigration and Refugee Services, page 9. They had income in that year of $31,653,748 and, of that, you, the taxpayers of America, gave them $30,376,568.  Their CEO* makes $204,186 in salary and benefits.
96% of their funding comes from you.  No taxpayer funding=No LIRS!