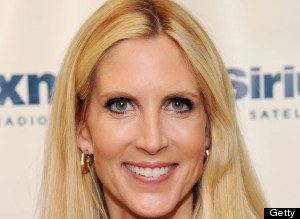 Author and columnist Ann Coulter has long maintained that immigration both legal and illegal is the most critical issue facing America today.  Yesterday she penned this column blasting Republicans (this includes elected officials like Sanderson in Tennessee) who can't see that what they are doing will kill America as we know it with the Republican Party as the first casualty.
Coulter (hat tip: Ed):
As House Republicans prepare to sell out the country on immigration this week, Phyllis Schlafly has produced a stunning report on how immigration is changing the country. The report is still embargoed, but someone slipped me a copy, and it's too important to wait.
Leave aside the harm cheap labor being dumped on the country does to the millions of unemployed Americans. What does it mean for the Republican Party?
Citing surveys from the Pew Research Center, the Pew Hispanic Center, Gallup, NBC News, Harris polling, the Annenberg Policy Center, Latino Decisions, the Center for Immigration Studies and the Hudson Institute, Schlafly's report overwhelmingly demonstrates that merely continuing our current immigration policies spells doom for the Republican Party.
Immigrants — all immigrants — have always been the bulwark of the Democratic Party. For one thing, recent arrivals tend to be poor and in need of government assistance. Also, they're coming from societies that are far more left-wing than our own. History shows that, rather than fleeing those policies, they bring their cultures with them. (Look at what New Yorkers did to Vermont.)
This is not a secret. For at least a century, there's never been a period when a majority of immigrants weren't Democrats.
At the current accelerated rate of immigration — 1.1 million new immigrants every year — Republicans will be a fringe party in about a decade.
Ruling class Republicans like the cheap labor too!
Republicans have no obligation to assist the Democrats as they change the country in a way that favors them electorally, particularly when it does great harm to the people already here.
Yes, it's great for the most powerful Americans to have lots of cheap, unskilled labor. Immigration definitely solves the rich's "servant problem."
You lose!
It's terrific for ethnic lobbyists whose political clout will skyrocket the more foreign-born Americans we have.
And it's fantastic for the Democrats, who are well on their way to a permanent majority, so they can completely destroy the last remnants of what was once known as "the land of the free."
The only ones opposed to our current immigration policies are the people.
There is much more! Read the whole column here.