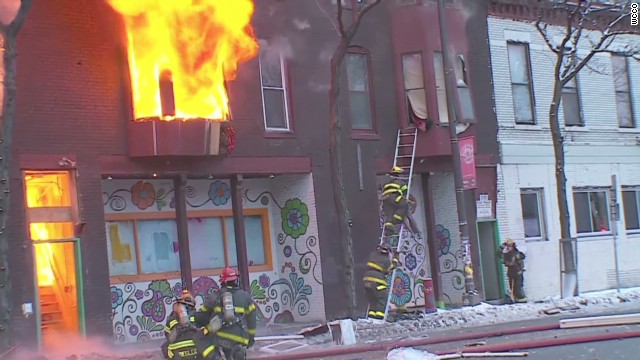 Update January 3:  Body found, gas leak suspected, Rep. Ellison stops by the scene, here.  See also Gates of Vienna: "the whole business is fishy."  The story takes a strange twist, here.
Update January 2:  More here about 'landmark' mosque next door.  No gas leaks reported or inspection issues so no explanation for the explosion yet, at FoxNews.
There may already be much more news on this story, but just coming to the computer now after a pleasant New Years Day (away from the computer!), I see Drudge has posted this CNN story about what they know so far:
(CNN) — An explosion and fire at a three-story apartment building in Minneapolis Wednesday left at least 14 people hospitalized, six critically, fire officials said. Three residents were believed to be missing and could still be inside.
Freezing weather conspired with heavy flames to hamper efforts to rescue victims and fight the fire, Minneapolis Fire Chief John Fruetel said.
Some horrified residents may have fallen or jumped from the burning building, which also housed a grocery store that served as a gathering place for the area's growing Somali community.
"This is a community that's been through a lot," outgoing Mayor R.T. Rybak said. "People who come to live in this part of our city often have gone through horrendous things. They come here for peace and for safety."
An explosion was reported about 8:15 a.m., and the building was soon engulfed in flames, officials said.
[….]
Farah Ahmed, a relative of the owner of the grocery store, said the small business was a popular gathering place.
"It was a gathering center," he said. "We started from scratch and we will make it again."
A mosque next door to the building appeared to escape damage.
If anyone sees the news tomorrow about what caused the blast, please send it our way.
For new readers, see one of our most-read posts at RRW—Why so many Somalis in Minneapolis?