We reported on Wednesday that local residents in one neighborhood of Rome have had it with the local refugee center claiming the asylum seekers have brought crime to their community.
See our original story here.
Reader 'pungentpeppers' spotted this latest news and asks why Italy is even giving refuge to mostly Muslim Egyptians and Bangladeshis. My guess is that—just as is happening in the US with the so-called Unaccompanied Alien Children—everyone who is an economic migrant (not a legitimate refugee) and wanting to get into a first world country these days is claiming they are persecuted and are demanding asylum.  They know how to use that "A" word! Someone has taught them how to use it!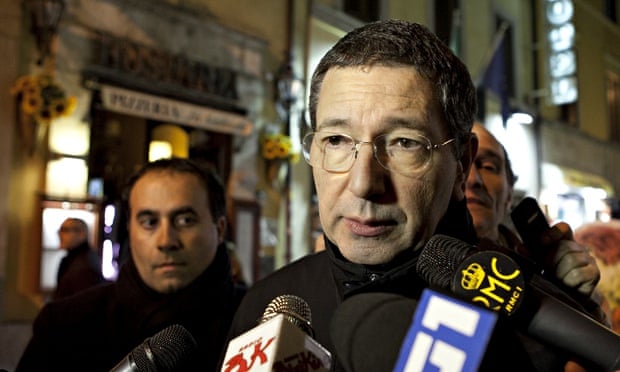 From Deutsche Welle:
 On Thursday, workers at a refugee center on the outskirts of Rome reported renewed tensions with local residents, who have been holding violent demonstrations against the foreigners in recent days.
"We are scared. We are trying to find a compromise with the residents," a center official, Francesco Amato, told the Associated Press news agency. The refugees currently being housed at the facility are reported to be primarily from Egypt and Bangladesh.
Amid the upswing in violence despite a heavy police presence, minors were evacuated from the site.  [The movement of UACs is going on around the world—ed]

A statement from Rome Mayor Ignazio Marino's office indicated that the building in the eastern suburb of Tor Sapienza had been "seriously damaged," according to Reuters news agency.
Hostilities escalated on Monday, with protesters throwing stones and bottles at the center as they shouted insults at its residents.
"Rome rejects all forms of violence, racism and xenophobia," Marino said in the statement.
Conflicting reports have described the protesters in Tor Sapienza, on the one hand, as disgruntled Italian natives whose ire is directed at the government's insufficient support for the refugees and, on the other, as far-right xenophobes.
For new readers, check our 'Invasion of Europe' series for background on how Italy got into this mess in the first place by sending its Navy out to rescue boats filled with illegal aliens coming from North Africa.
Then this about a country in economic turmoil as it is, from DW:
According to the UN High Commissioner for Refugees, Italy will be home to nearly 80,000 refugees and close to 14,000 asylum seekers by January.
For US readers, we are bringing you news from Europe (going over the edge!) so that you know what might be ahead for us as migrant numbers reach a certain critical tipping point.  Will Obama bring us there quickly with his threatened amnesty for millions?