Editor's note: This is another in what could become a series of guest posts from reader 'Pungentpeppers!'

Update:  More on the story from the UK Daily Mail!
The idea of bringing in bunches of strange and exotic people into Sweden is turning into a crazy soap opera.
Where are the deluxe accommodations in central Malmö the smugglers promised?
The latest refugee soap opera taking place is on a BUS in a quiet and pristine part of Sweden some six hours north of Stockholm. It's called Grytan and is a 20-minute drive south of Östersund. Sheltered by one of Sweden's many evergreen forests, Grytan lies in a sublime setting where those escaping trouble can finally feel at peace and reconnect with nature.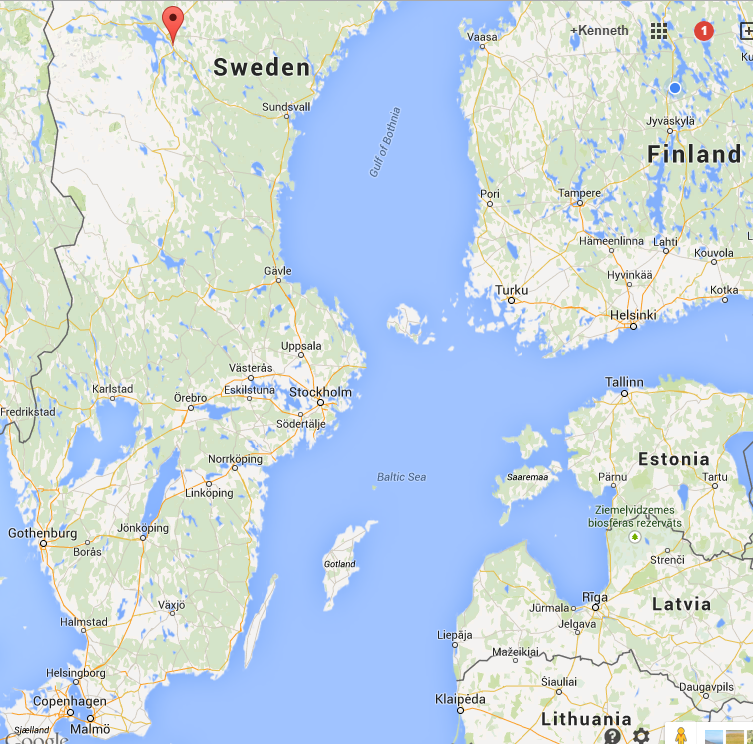 After sunset (it comes early here in winter, 2:31 p.m. on New Year's Day), visitors can check out excellent local restaurants that offer Swedish specialties like elk meat balls with pickles, cranberries and cream sauce! Yum!
Lodgings specially built for refugees are superb and include all amenities, including a health center, two playgrounds, and internet access, as well as special events including outdoor barbecue picnics with music and volleyball.
This video shows contented asylum seekers relaxing, eating American-style sandwiches, and getting some exercise. What fun!
But now there's rebellion brewing in Grytan. Some new arrivals refuse to get off the bus! They say Grytan is too dangerous! Bears and wolves might eat them!
One of the frightened newcomers is above.  (See all of the photos showing the rest of the group and the lovely facility prepared for them.)
They all look like Middle Eastern men – is that a surprise? The protesters who were interviewed on Swedish radio confirmed their origins.
They said they need a "better place" and that "here exist bear and wolf and more animals …. we are Arab people. We can't stay here in that weather".
Another man complained "I am 75-years-old and come from the Middle East. Then I get sent to a place that looks like this," said a man from Syria to the local Östersunds-Posten (story at The Local), pointing to the icy road.
"It is dangerous for me to be here," he said.
Some of the protesting asylum seekers spent the night on the bus and then complained it was cold. In the latest development, the asylum seekers are threatening to stage a hunger strike! I suppose the idea of elk balls with cranberries and cream sauce does not appeal to them.
When will the Swedes get it right?
For more on those yummy elk meat balls, go here.
See our complete archive on Sweden by clicking here (includes posts on other ungrateful "refugees").  LOL! Remember these guys who complained that their Swedish castle was haunted.