Update July 13: Spartanburg citizens formalize 'Pocket of Resistance,' here.
Update June 6:  A Spartanburg resident answers the "compassion" argument, here.
Update June 5:  US State Department ignores Gowdy, sends first refugees to Spartanburg, here.
Update June 4:  More on the latest State Dept. response to Rep.Trey Gowdy, here.
Update June 3:  Rep. Trey Gowdy gets response to 2nd set of questions to US State Department, here.
Update June 1:  Jeb Bush meets with Jason Lee and other leftwing evangelicals, here.
Update May 26th:  Spartanburg has it all, here.
Update May 20th: Spartanburg County Council obviously afraid to take a role in the controversy, here.
Update May 5th:  Rep. Gowdy gets response from Kerry but wants more information, here.
Update April 19th:  Local and state elected officials want answers, here.
Update April 17th: More media pick up the story, here.
Update April 14th:  Rep. Trey Gowdy needs to help other towns, hold hearings, here.  World Relief admits they get "push back" in some towns, here.
Update April 13th:  Rep. Trey Gowdy, who represents the district, wants answers from Sec. of State John Kerry, here.
Update April 1st: If folks in Spartanburg have any doubts about how little control they will have once this office is established, see Concord, NH—no say in how many refugees come! Here!
Update March 31st:  Spartanburg citizens want impact statement and public meeting on refugee plan for the city, here.
Update March 23rd: Spartanburg residents, please note that mid-western towns are having difficulty coping with large numbers of refugees, here.
Update March 21st:  Folks in Spartanburg, where Syrians may be resettled, need to read about Indianapolis where the resettlement contractor admits the numbers will start small, but will grow!
Update March 19th:  See 'Comment worth noting: Since Spartanburg is my home,' here.
Update March 17th:  Everyone concerned about Spartanburg, must read about Worcester, Mass. here.
Update March 11th:  This post has received the highest number of visitors we have ever had to a post in just a couple of days.  I realized this morning that we needed a primer of sorts on what your town should do if the federal government is planning to "plant" refugees where you live.  See our Ten things you need to know and what you can do, here. ***Update*** Don't believe me, check out what is happening in Manchester, NH, here.
Update March 10th:  This post went through the roof yesterday, thanks to all who sent it around.  However, one reader pointed out that I failed to make it clear that refugees are one class of immigrant which can tap into most forms of welfare without being US citizens.  That is why the Obama Administration is working overtime to expand the definition of 'refugee' so as to make our welfare system more accessible to the newly amnestied aliens.
Update! Please all of you South Carolinians forgive me for initially putting an 's' in the middle of Spartanburg in my first post!  And, secondly, I was just informed that some parts of the Spartanburg area are represented by Rep. Trey Gowdy.  All readers should know that Gowdy is the Chairman of the House Subcommittee on Immigration and Border Security that has jurisdiction over the Refugee Resettlement program and should know the threat this resettlement poses for his district!
Editors note:  In my previous post I said our next two posts would be about how far along the Obama Task Force on New Americans "integration" (aka seeding) plan is in a couple of cities that are overloaded with refugees, however, reader Robin spotted this news which is more pressing at the moment!  Spartanburg beware!  South Carolina beware!

Over the years, we have noticed that South Carolina has pretty much stayed out of the top tier of states where refugee seedlings are being planted.  Looks like those days are over as it was announced that World Relief (Evangelicals) one of the TOP NINE federal resettlement contractors is about to open an office there!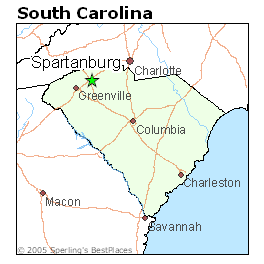 World Relief, like the other eight contractors*** are all Progressive advocacy groups, six of them represent the 'religious Left.'
Demand answers!
Anyone in Spartanburg who is concerned about this news, must speak up now!  You might want to look at how Athens, Georgia has so far been holding them at bay by asking the federal government and the contractor for a plan—who pays for this, where will the refugees work, is our school system ready for myriad languages and illiterate children, will our health department be overburdened, do we have enough public housing for our own low-income people, how about our police force, is it ready?  Those are the sorts of questions any sensible local government should be asking!  Tell the Mayor to ask questions!

For more question ideas, see our fact sheet.
Additionally, ask World Relief if the flow can be stopped once started if the town can't afford it anymore?  Or if there is social disruption? I'll tell you the answer now—NO!
The truth is that the UN/US State Department is running out of "welcoming" towns and cities, so they are constantly on the move to find new towns in which to "plant" refugees.  "Pockets of Resistance" are forming in overloaded communities.
From GroupState.com.   They say they will resettle 65 refugees from Syria, DR Congo, and Bhutan.  Why not Muslim Iraqis and Somalis too?  Of course they will be in the mix because the UN is picking our refugees!  A city doesn't get to choose the nationality of the refugees that will be dropped off!
Here is the story Robin sent:
Spartanburg will soon be home to dozens of people fleeing persecution in their homelands.
Refugees may begin arriving here as early as spring through a refugee resettlement ministry.
World Relief is establishing an office in Spartanburg. "In community with the local church, World Relief envisions the most vulnerable people transformed economically, socially, and spiritually," according to the faith-based organization's website.
Jason Lee has been named executive director of the Spartanburg office. He said 65 refugees are expected to move here this year.
Lee served more than five years as pastor of Oak Grove Baptist Church. He's also ministered to Somali refugees in Kentucky and is a leader with Come Closer Spartanburg.
Come Closer Spartanburg [they come up with such warm and fuzzy names for themselves!–ed] is a partnership of faith leaders, Christians and business leaders with a mission to "to unite God's people for the purpose of loving our city to Christ." One need identified is serving residents born outside the United States.
[What!  Has Spartanburg helped all of its own American poor people and it now needs to import more?—ed]
World Relief works with federal agencies to offer resettlement, placement and various services to refugees. According to the organization's figures, it has resettled more than 250,000 refugees from more than 80 countries in the past 35 years.
Lee said it's unknown what nations the refugees who will resettle in Spartanburg are from — Syria, the Democratic Republic of Congo or Bhutan are possibilities.
Read it all, there is a lot of useful information in it.
Urgent!  Help save Spartanburg! I don't normally ask, but please send this story around, especially to people you know in South Carolina!  Clearly they have no idea of what they are in for!
*** The federal resettlement contractors (almost completely funded by US taxpayers) looking for new resettlement sites: