Is yours one of 180 cities to which the US State Department is sending refugees?  If it is, you are either experiencing this problem already or will be soon—not enough low income housing to go around.
The city of Seattle had proposed a plan to gradually increase rents (they are probably going broke supporting all these immigrants), but the plan has been shelved for now because of the push-back from tenants.
Seattle is the third most desirable city for Somali refugees behind number one Minneapolis and number two Columbus, Ohio.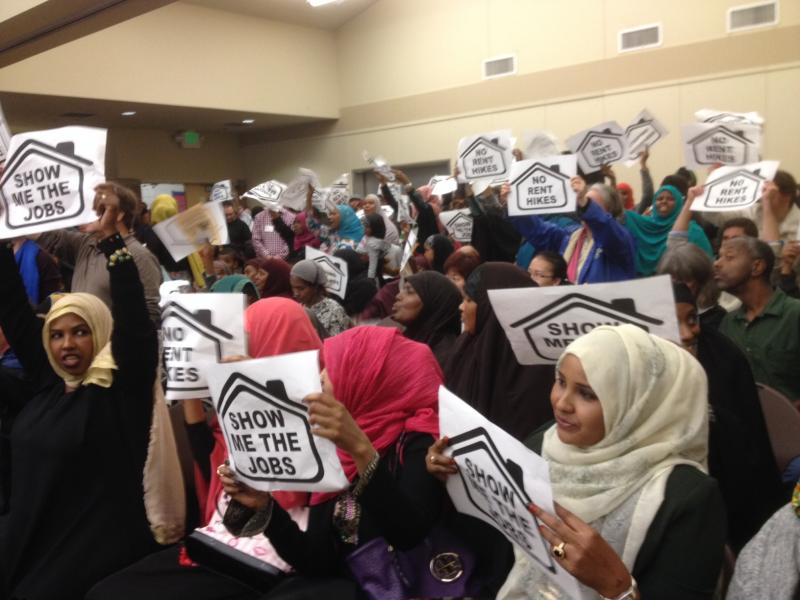 From the Seattle Times (hat tip: 'Pungentpeppers').  Emphasis is mine:
In response to widespread opposition, the Seattle Housing Authority (SHA) has shelved its controversial plan to raise rents for thousands of its tenants.
There will be no rent policy change until 2016, and the SHA might scrap the plan altogether.
"We have decided to put consideration of the Stepping Forward proposal on hold," SHA Executive Director Andrew Lofton wrote Monday in a letter to Seattle Mayor Ed Murray.
The SHA board of commissioners was initially set to vote on the plan by the end of 2014. No longer.
"In early 2015 we will work with our board of commissioners to establish a process and time frame for a new policy recommendation," Lofton wrote. "We are unlikely to put forth a rent policy proposal before 2016."
Stepping Forward would have used apartment size rather than household income to set rents for SHA-assisted households with at least one adult capable of working. The rents would have increased over time. The plan would have paired the rent increases with job counseling for tenants.
In proposing Stepping Forward earlier this year, Lofton argued the plan would help the SHA serve more people, cope with impending budget cuts and push tenants to become self-sufficient.
The SHA has about 9,000 households on its waiting list for public housing and recently had 24,000 households apply for 2,000 available rent vouchers, he said.  [Gee, don't you wonder how many of these are needy Americans?—ed]
But many SHA tenants, advocates for low-income housing and elected officials came out against the plan, predicting that some households would be unable to keep up with the rent increases and would wind up homeless.
Tenants demonstrated against Stepping Forward at a number of SHA meetings and at City Hall. Murray opposed the plan, saying it would have a disproportionate impact on immigrants, refugees, families of color and female heads of household.
A 32-year old father of SEVEN wants to keep his cheap rent:
Abdisalan Abdulle, 32, a father of seven who lives in the SHA's Yesler Terrace housing complex, had mixed feelings about the news.
"They're backing it up for one year, but 2016 is going to come," said Abdulle, who took part in demonstrations against the plan. "I hope they get rid of it for good."
There is more news on the plans' demise here (watch the video).  And, this is a story about protests back in September that we missed.
Calling David Lubell:  Tell us why this is so good for the city (for the taxpayers and the non-immigrant poor people) of Seattle.