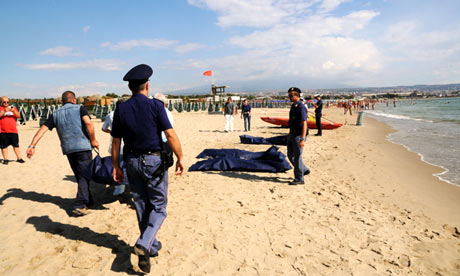 Reuters has reported that Italian authorities have captured the so-called "mother ship" used recently to ferry Syrians (and North Africans) across the Mediterranean to Europe.  Illegal alien crossings (with a loss of life) have increased dramatically since that Obama Administration-applauded "Arab Spring" got underway in Africa.  The captured traffickers are Egyptians.
From Reuters:
 ROME (Reuters) – Italian authorities have seized a "mother ship" used to traffic illegal migrants across the Mediterranean and picked up about 200 Syrians fleeing the civil war in their homeland, officials said on Thursday.
European Union and Italian patrol boats chased down the fishing boat with a crew of 15 that had been used to ferry the immigrants into international waters near the Sicilian coast, prosecutors and police said.
The vessel's crew had already transfered the refugees into a smaller boat for the final leg of their voyage. Italian police boats collected 199 migrants, including 64 children, all of whom were Syrian.
The fishing boat was towed back to the port of Catania in Sicily. The seizure of the mother ship was a result of an investigation into the drowning of six migrants off Sicily in August, prosecutors said in a statement.
The smugglers are part of an Egyptian crime group, they said. The exact departure point of the fishing boat was still unknown.
The numbers are growing and countries on the Mediterranean are feeling the crunch—most especially Italy and Malta.
 Almost 9,000 migrants reached Italy by boat between July 1 and August 10, the Interior Ministry said.
In the 12 months up to August 10, more than 24,000 came, compared with more than 17,000 in the same period a year earlier, and almost 25,000 in the 12 months before that, the ministry said.
The photo is from this story at The Guardian.