This story is nearly a month old, so we presume she is out of her tree now, but couldn't quickly find any news account of that.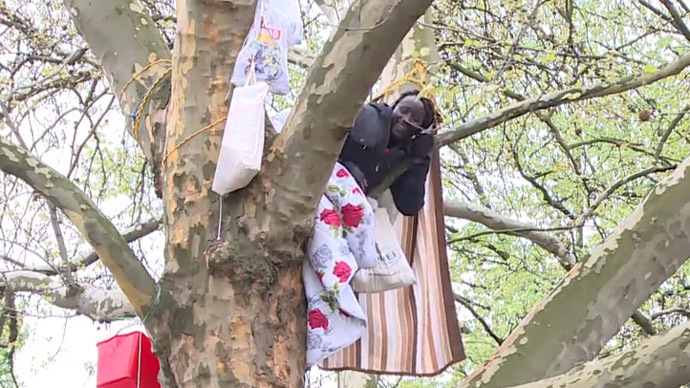 From Russia Today (last month) Hat tip: 'pungentpeppers'
A Sudanese asylum seeker has moved to the treetops in central Berlin after local authorities evicted her refugee camp. Police forbid residents bringing her food or water, but Napuli Langa vows to stay aloft till death in a fight for her dignity.
Wrapped in an anorak and a blanket, Langa, 25, has already spent three days on branches atop a tree in Berlin's Kreuzberg neighborhood, just walking distance from main tourist landmarks.
Hoping that weak and exhausted she will sooner or later jump down, police have spread out cushions on the ground. But Langa does not seem to be giving up.
"I am happy protesting for my rights and as long my energy can take me, I will stay here," Langa shouted to RUPTLY's crew under the tree.
She has vowed to expose what she says are the "colonial" methods Germany uses in treating refugees and asylum seekers from outside Europe and, particularly, Africa.
In fact, as we have reported many times, the German government is probably Europe's most "welcoming" government toward refugees and asylum seekers.    See our archive on Germany, here.
The invasion of Europe continues….  See Afghan migrant and his sail boat, here.