This story is dominating the refugee news from Syria today.  Heck, the whole Middle East could fall under Obama's watch.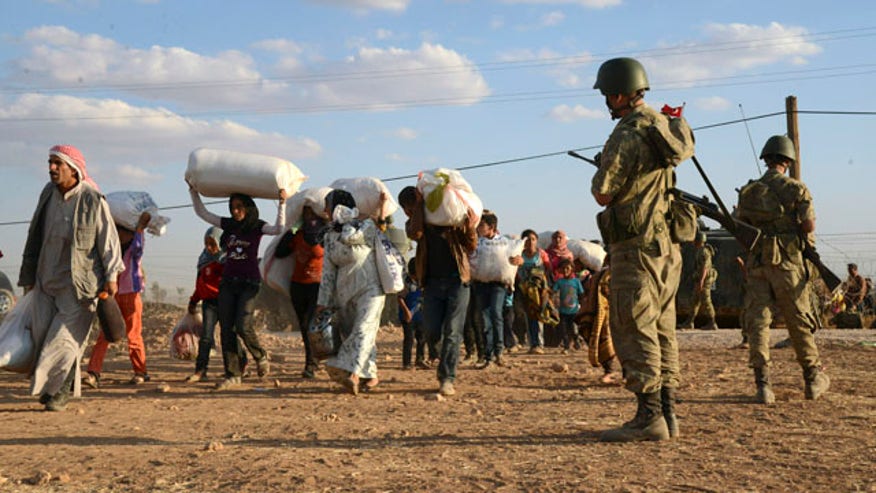 From Fox News:
KUCUK KENDIRCILER, Turkey –  The number of refugees seeking shelter in Turkey from the Islamic State group's advance across northeastern Syria has hit 100,000, Turkey said Sunday as clashes broke out on the border between Turkish security guards and Kurds.
The head of Turkey's AFAD disaster management agency, Fuat Oktay, said the figure relates to Syrians escaping the area near the Syrian border town Kobani, where fighting has raged between IS and Kurdish fighters since Thursday.
The U.N. refugee agency earlier Sunday said some 70,000 Syrians have crossed into Turkey in the past 24 hours, and that it was preparing for the arrival of hundreds of thousands more.
The Syrian refugees — most of them ethnic Kurds — have been desperate to reach Turkey and escape the advance of religious extremists barreling across Syria.
On Sunday, heavy clashes broke out between the Islamic State group and Kurdish fighters only a few miles from Kobani, which is also known as Ayn Arab.
The Islamic State group was bombarding villagers with tanks, artillery and multiple rocket launchers, said Nasser Haj Mansour, an official at the defense office in Syria's Kurdish.
"They are even targeting civilians who are fleeing," Haj Mansour told The Associated Press by telephone.
As refugees flooded in, Turkey closed the border crossing in Kucuk Kendirciler, a small village about a mile from Kobani, to Turkish Kurds, with local police saying they were seeking to prevent Kurdish fighters from entering Syria.
Clashes broke out as Kurds trying to approach the crossing from inside Turkey scuffled with security forces, which attacked crowds with tear gas, paint pellets, and water. The state-run Anadolu Agency reported Kurdish protesters had hurled stones at the security forces.
Note to US State Department—-this does not mean we need to bring them to America!