Move over Islamophobia!  For all of you who don't want to see your countries overrun, the United Nations has identified a new phobia they claim you are suffering from.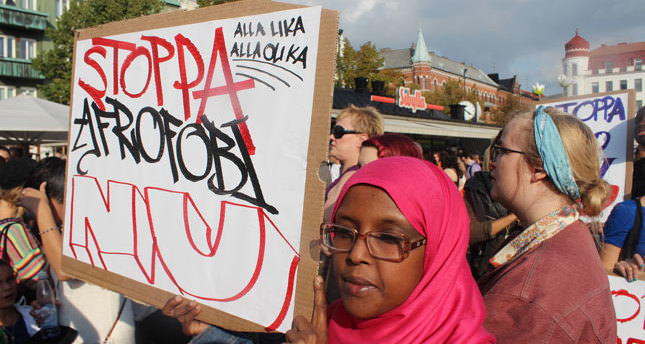 Look at this incredible story at the Daily Sabah, a Turkish newspaper (hat tip: 'Pungentpeppers)!
By the way, there is a lot going on in Europe right now and if it seems we are spending too much time discussing the invasion, we aren't.  What is happening in places like Sweden offers a profoundly important message we all better heed (and quickly).
ISTANBUL — Sweden, a European country known for its long history of openness and tolerance, now suffers from growing racial discrimination towards people of sub-Sahara African descent. In response to "a heightened xenophobic and racist attitude against migrants and refugee communities with African descent," the United Nations called on the Swedish government to take significant measures to end "Afrophobia" within the country.
"Afro-Swedes and Africans with whom we met expressed their experiences of multiple forms of discrimination based on their skin color, race, religion and sex," the U.N. human rights experts said, following a five-day official visit to Sweden. The working group urged the Swedish government "to develop a Human Rights Strategy and other measures that would address racial discrimination against Afro-Swedes and Africans."
Then get a chuckle here.  They don't tell you that the recent riots*** were perpetrated by the immigrants.
As hate crimes prevail within the country, Sweden was hit by riots over the weekend. During heavy clashes between protesters and police in a poor suburb in Sweden's capital of Stockholm, 11 young people were arrested for rioting and arson. Many Swedish suburbs with a large immigrant population have been hit by violence, as many fear that it could further boost the far-right anti-immigration movement in Swedish society.
So here is the lesson we should all learn from "welcoming" Sweden.  They invited the world to come and partake of their generous society and what do they get?—a kick in the teeth for it.
Sweden's reputation as an open society has been deteriorating as more people of African descent are subjected to racial discrimination. As the world continues to suffer from conflicts and political extremism, Sweden received the most asylum applications in the world from 2009 through 2013, according to the U.N. refugee agency, and the country expects that the number of asylum seekers in 2015 will break records. "Our society should be prepared to receive between 80,000 and 105,000 asylum seekers in 2015," said Sweden's Migration Board, the government agency in charge of handling immigration issues. Sweden's refugee policy is also praised by many international humanitarian agencies, as it stepped up its efforts for Syrians by granting permanent residency to refugees fleeing the conflict. In light of the worsening humanitarian crisis in Syria, Sweden opened its borders to all Syrian asylum seekers by granting them permanent residency.
However, Sweden's liberal policy towards refugees has resulted in decreasing tolerance in Swedish society toward immigrants. [NO kidding!—ed] In the face of a massive influx of refugees and asylum seekers, Swedish nationalism has been on the rise, as far-right groups are deeply critical of the center-left government's policies towards immigration.
Go here for our complete "Invasion of Europe" archive.  Tomorrow there is expected to be another big demonstration in Germany against Muslim immigration, if you see the news before I do, send it my way.
***See riots last week, you know if they were started by native Swedes they would be making that clear.