…..resettlement agencies responsible for solving the problem!
That's what the Wall Street Journal blog reported earlier this week (thanks to two readers for sending it).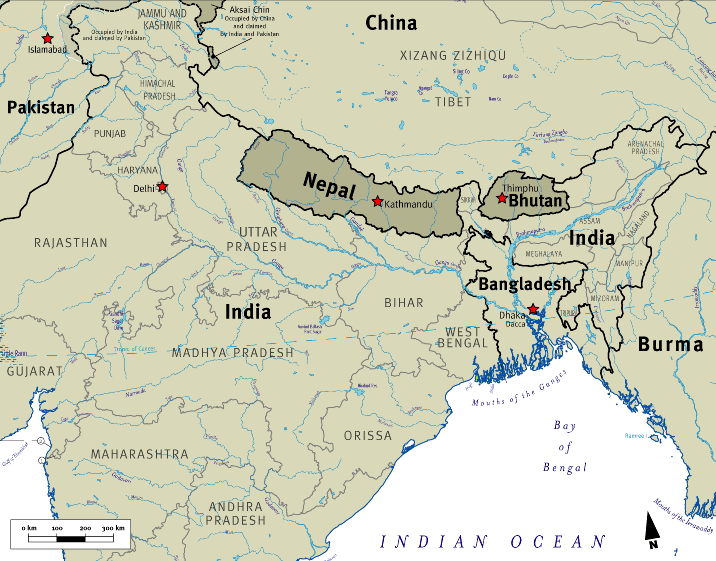 Before I give you the highlights from the WSJ, this is how we came to have tens of thousands of Bhutanese refugees in America.  After nearly 20 years of a stalemate between the tiny countries of Nepal and Bhutan, the United Nations basically got sick of running the camps in Nepal (unlike the Palestinian camps they have been running for 60+ years).
The Bhutanese refugees are ethnic Nepalis (mostly Hindus) who had lived in Bhutan for decades, but were expelled by the government trying to keep Bhutan for its religious (mostly Buddhists) and ethnic majority.  Nepal didn't want them back either.
So, the US State Department (under Bush Asst. Secretary Ellen Sauerbrey) announced in 2007 that we would resettle the lions' share of the refugees—60,000.  How we had any national interest in this situation is still beyond me, and I don't know how we couldn't have persuaded (with some international aid) those two small countries to work it out is troubling.
Honestly, I am so cynical now I believe we brought them here for cheap docile captive LEGAL laborers!  And, the resettlement contractors needed more bodies to resettle since they are paid by the head to bring 'em to your towns and cities.
And, maybe, just maybe, every ethnic group in the world is not going to melt in the mythical American melting pot! How would you like to have been protected and cared for in a camp for your whole life and then dropped into the heart of some American city—often in slum neighborhoods—and expected to make it!
Here is what the WSJ said (emphasis mine):
Before Menuka Poudel left the refugee camp in Nepal where she and her family sheltered for almost two decades after being displaced from Bhutan, the 18-year-old spoke to me about her hopes of pursing her college education and living the American dream.
Just over a year later, on Nov. 30, 2010, she was found by her mother hanging in an apartment in Phoenix Arizona, where her family had moved a month before. They had hoped to begin a new life under a resettlement program for Bhutanese refugees who had fled cultural and religious persecution.
Ms. Poudel, who was still breathing when her mother found her, was taken to St. Joseph's Hospital and Medical Center in Phoenix where she was pronounced dead the following day, according to her family.
The young woman was one of over 30 Bhutanese refugees who have taken their lives in the U.S. since the summer of 2008 when the resettlement program began.
The problem of suicide in the community seems to be worsening: Since the start of Nov. 2013, seven Bhutanese refugees have killed themselves after resettling in the U.S.
[….]
As of Oct. 2013, there were around 71,000 Bhutanese refugees living in the U.S., according to the United Nations High Commissioner for Refugees.   [Originally we were only taking 60,000!—ed]
Mismatch between their idea of the American dream and the work they do in America (yeh, like working the line in a slaughter plant, if they even find a job!).
"Different psychological stressors occur at each stage of the resettlement process," the study said. Once refugees are relocated, factors such as inability to find work, increased family conflict and symptoms of anxiety, depression and psychological distress are associated with suicidal thoughts, it added.
After resettlement, many young Bhutanese adults seem to find a mismatch between their idea of the American dream and the availability of work and quality of pay in the U.S. [What! We are told all the time that refugees are finding plenty of employment!—ed]

Those working with the Bhutanese community in America say there is a lack of support and provision to deal with the problem.
Organizations that resettled them are responsible for solving the suicide problem!  Hah!  Don't hold your breath unless they get some (more!) taxpayer grants to do it.
Mr. Subedi [community volunteer in Philadelphia] says that to tackle the problem properly and highlight the issue among Bhutanese refugees, a U.S.-wide campaign by the organizations responsible for the resettlement program is required because the community in general is a self-contained and introverted culture.
We have written many posts on the Bhutanese resettlement.  Click here for all of them.  Here are our posts on Bhutanese suicide.  We are also putting this into our Health issues category as it relates to what we have been saying lately about refugee mental health problems.