This is a story, one of the many, I missed in the days after the Boston marathon bombing when I was busy getting more information on the "refugee" bombers.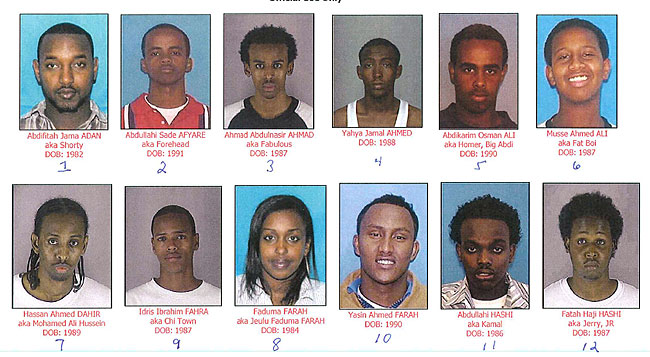 And, I had been wondering whatever happened in that case involving 30 Somalis charged with using underage girls in a multi-state sex trafficking ring.  Some of them have gotten off.  More could be tried except an important witness refuses to testify (dead man if he does, I'm assuming).
All of our previous coverage of the case is archived here.
This is the short news story from The City Paper:
A man who repeatedly refused to testify in a sex trafficking case involving alleged Somali gang members has been convicted by a federal jury of contempt and obstruction charges.
The jury in Nashville on Wednesday convicted Abdullahi Farah of misbehaving before the court, contempt of court and attempt to obstruct the enforcement of sex trafficking laws.
"He agreed that he had material information on the ongoing sex trafficking case, but he still refused to testify against the other defendants," Assistant U.S. Attorney Van Vincent said.
Farah, who is also known as Grey Goose, will be sentenced later. He is faces a maximum of life in prison, Vincent said.
Read on, the article has a short report about what happened with some of the others accused in the case.
Background for new readers:
We have resettled more than 100,000 Somali refugees to cities large and small in the US over the last 25 years.  See one of the most widely read posts here at RRW.  Large numbers went to Minneapolis, and now they are spreading out throughout the state.  In three years since 9/11 ( Bush years 2004, 2005, 2006) the number of Somalis arriving topped 10,000 per year.  Those refugees then began bringing in the family (chain migration!) until 2008 when shock of shocks! the State Department discovered that as many as 30,000 Somalis had lied about their kinship and weren't related at all.  The State Department then closed the "family reunification" program for Somalis.  It has recently been re-opened for new and legit family members, but they have no intention of finding and deporting the liars.
In the first six months of this fiscal year (Oct. 1 to March 31) we have resettled 3,674 new Somalis which means we are on target to make FY2013 a year to rival the largest Somali influx years during the Bush Administration.