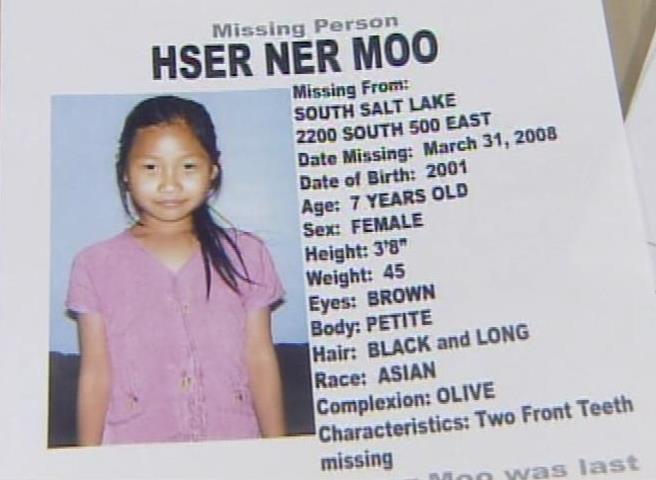 This is a horrible case we reported from the time it happened in 2008.  I'll bet you won't hear about it even on Fox News!
Yesterday, jury selection began in the murder trial of Esar Met who was arrested shortly after the murder of a Hser Ner Moo  a 7-year-old Burmese Karen Christian girl who had been resettled in the same apartment building with Met.
In the camp, where they both lived prior to the US State Department contractors (which was it?  Catholic Charities?) sending them to Utah, they lived in separate parts of the camp since Muslims and Christians in Burma have had a long and tense history (it is not just the Buddhists who find the Rohingya Muslims a problem).
I speculated from the outset that Met was a Muslim, but didn't learn until 2012 (a reader sent me an old story on the case) that one reporter did have the guts to find out.  Here is the post I wrote in June 2012.   This is the lengthy Salt Lake Tribune feature piece which includes these telling lines (emphasis mine):
Rage flashed through the muddy lanes where Hser Ner Moo had once skipped rope and played hide-and-seek. In the camp, tension lingers between the Karen and Muslims, and some choose to live apart. Hser Ner Moo and Esar had lived in separate sections of Mae La.
America had made them neighbors.
Here is the news yesterday at the Salt Lake Tribune as jury selection began in Met's murder trial:
Jury selection began Monday for a Burmese refugee accused of kidnapping, raping and killing a young girl at the South Salt Lake apartment complex where they both lived in 2008.
Opening statements and evidence in Esar Met's three-week-long trial are scheduled to begin Tuesday.
Met, 27, is charged in 3rd District Court with first-degree felony counts of aggravated murder and child kidnapping in connection with the March 2008 slaying of 7-year-old Hser Ner Moo.
Hser Ner Moo disappeared on March 31, 2008, prompting hundreds of volunteers to search for her before police found her body in Met's basement apartment the next night. Her family lived in the same complex, and the girl was acquainted with Met.
She was found face down in Met's shower, still in the pink shirt, pink skirt and pink coat she was wearing the day before. Police have said the girl was likely dead within an hour of leaving her family's nearby apartment.
Defense argued to have gruesome photos withheld from the jury:
The defense also petitioned the court to have prosecutors use diagrams instead of certain graphic photos that, the defense argued, are "too gruesome" for jurors.
Prosecutors called the photos relevant, saying they show the brutality with which the child was killed and the injuries she suffered.
"The person who did this, who dragged her into the shower and left her, intended her to die," prosecutor Robert Parrish said. "They are not gruesome photographs in and of themselves."
Atherton later ruled that only two photos — one depicting the 7-year-old girl crumpled inside a bathroom stall; the other, a photo of the girl's bruised and damaged genitals — could be used at trial.
No death penalty!  The taxpayers of the state of Utah will be paying for this guy for life (if he is found guilty)! 
Maybe the resettlement agency that in its infinite wisdom placed the two in the same building should take up a collection for his care in prison.   In fact, in a lot of these crime cases involving refugees, I think there should be some financial responsibility on the US State Department and the resettlement contractors when one of their refugees gets in trouble with the law.  Maybe they will be more selective next time.
To move the case along, prosecutors decided to forgo seeking the death penalty against Met. Instead, Met could face life without the possibility of parole or 20 years to life in prison, if found guilty of aggravated murder.
Read the whole article, there is a problem coming in this case regarding interpreters.  One thing few "welcoming" communities consider is the cost and availability of competent interpreters when refugees end up in police custody or in court, or even need medical treatment.  Federal law requires the local community to find and pay the interpreter.  We have learned in some immigrant-rich counties the cost can run into millions of dollars.