Update August 5th:  Australians living in Hunter upset to hear a new detention center (for 1000) could be built in their town if the PNG strategy fails, here.
Presumably demonstrating  that they mean business, the Rudd government has sent the first batch of "asylum seekers" to PNG.  Apparently, PNG will process them and then decide whether they can stay or not.  It is not clear to me what happens to them if PNG rejects them.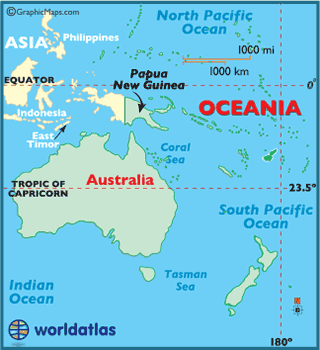 We've been reporting on Australia's new get-tough policy for the last couple of weeks.  Opposition leader Tony Abbott says this is just a stunt to get voters to think something is being done about the invasion of Australia by mostly Muslims from the Middle East.
Here is the latest story, from Trend:
The first asylum-seekers group which included 40 Iranian and Afghan refugees, has been sent to Papua New Guinea from Australia, according to country's new refugee policy, IRIB News reported.
If the cases of refugees are approved by the local government, they will be allowed to stay in New Guinea.
Australian government has announced on July 19 that illegal migrants which enter Australia by boat will not be tolerated, and will be sent to Papua New Guinea or their homeland, the report said.
By the way, Iran won't take back any that are ordered deported, surely because this is about 'seeding' the West with Islamists!
Lovely prospective citizens—the inmates burned down the detention facility:
According to the reports, hundreds of asylum seekers including Palestinian, Iraqi, Lebanese, Iranian and Sudanese in Nauru Island refugee camp, who protested against slow process of refugee determination and hardening of asylum laws, were attacked by police On July 20.
Some 125 asylum seekers were in police custody on Nauru after the riot ended with fire destroying most of an Australian-run detention center there.
So, do you think the average Australian citizen has had enough—Yup!
For all of our recent coverage of the on-going political controversy about boat people arriving on Australian shores, see our Australia category, here.