And, it would mean more expense for the "welcoming" community and "welcoming" Kentucky thanks to Catholic Charities of Louisville.*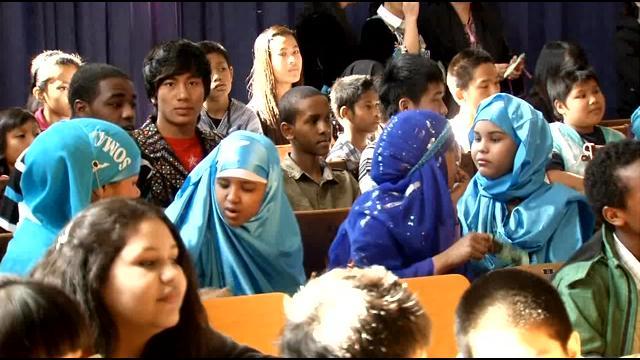 From WFPL News (hat tip: Robin):
Thang Lian is a resettled Burmese refugee student who attends Jefferson County Public Schools' Newcomer Academy. In March, he turns 21, which means the district can no longer financially support his education.
So he'll have to choose another path.
"My parents and my counselor were talking about next year I move to GED," he says.
For some the GED high school equivalency diploma is an option; others may enroll in Jefferson County's online alternative program.  [Take it from me, there is nothing wrong with going the GED route!  And, some one of the refugee contractor organizations could provide charitable tutoring along the way!—ed]
On Tuesday, Kentucky's House Education Committee approved bill that would give refugee students like Lian an additional two years to graduate, extending state spending for these students to age 23.
Concerns center on additional costs and the fairness issue.  Although not raised here, do we want 23-year-olds in school with 14-year-olds?
But the Kentucky Department of Education is concerned about parts of the bill. For example, there could be additional costs to the state and local districts and equity issues could arise, like not providing the same opportunity for special education students, education department officials say.
Refugee overload in Jefferson County?
As WFPL previously reported, officials estimate more than 500 school-age children have been resettled in Jefferson County alone over the past year. That number is expected to rise, officials say.
[…..]
Further, data from the Kentucky Office of Refugees (aka Catholic Charities) shows over 100 refugees between the ages 14 and 17 have been resettled each year throughout the state over the past several years.
* Louisville is the center of Jefferson County.
Thank Catholic Charities!
So who is bringing all the refugees to Louisville?  Why it's none-other than Catholic Charities of Louisville which is coincidentally also the Kentucky Office for Refugees.  Gee, sounds like Tennessee where Catholic Charities calls the shots on the demographic change for the state.   Progressive Catholics are busy changing the South!
We wrote about them just last month here.
Check out a recent Form990 for Catholic Charities of Louisville.  On page 9 note that their income was $13,179,017 and you (taxpayers) gave them $11,349,920 of that through government grants.
Thank Catholic Charities too for bringing all the Muslims to Louisville where 8 mosques now serve the growing Muslim community….
… including thousands of refugees from such lands as Afghanistan, Iraq, Somalia and the former Soviet Union and Yugoslavia.
A trip down memory lane:  In 2007, then Bush Asst. Secretary for refugees, Ellen Sauerbrey, told an audience in Louisville that we bring refugees to America to keep them from becoming terrorists!  Funny in light of the fact that Kentucky should have been the home for those two Iraqi refugee terrorists subsequently caught there.
See yesterday's post about how many refugee teens are not finishing high school.  Maybe Catholic Charities could offer tutoring services through private charitable giving (of time or money) by local Catholics, or better still, give all those refugee kids free tuition to private Catholic schools until age 23!