I wonder if the stiffest sentence has anything to do with what one of the women told the court back in 2011?   Amina Ali, after being found guilty of sending money to al-Shabab, declared that we infidels would go to hell.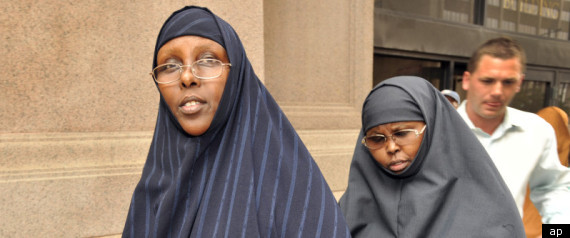 After the verdicts, one of the women, Amina Farah Ali, told the judge through an interpreter that she was happy because she was "going to heaven no matter what," and condemned those in authority, saying: "You will go to hell." She was ordered into custody pending her sentencing.
Although in December 2011 we reported that Minnesota's hard lefties were coming to the women's defense, I guess it didn't amount to a hill of beans when it came to sentencing the pair.
I would have deported them and both of their families because now they will cost the US and Minnesota taxpayers a boatload of money while in prison, not only for their care but in the cost of welfare for their families.
Be sure to see the "peace and love" crowd's publication entitled, Fight Back News, here.  ***UPDATE*** Fight Back News calls them "humanitarian heroes!"
Here is the sentencing news from CBS (hat tip: Ed).  I guess refugee terrorism stories are starting to break out of the local press and are going national!
Two Minnesota women convicted of conspiring to send money to al-Shabab in Somalia were given prison sentences in federal court Thursday, ending a week of punishments tied to long-running investigations into terrorism recruiting and financing for the terrorist group.
The 'go to hell infidel' girl gets 20 years!
Amina Farah Ali was sentenced to 20 years in prison on 13 terrorism-related counts, and Hawo Mohamed Hassan received a 10-year term on one terror-related count and two counts of lying to the FBI.
Ali insisted during her 3-and-a-half-hour hearing in U.S. District Court in Minneapolis that she was only trying to help the poor in the war-torn East African country of which she is a native.
Chief Judge Michael Davis asked Ali whether those who she collected money from knew that it would be going to al-Shabab. The al Qaeda-linked group is at the heart of much of the violence in Somalia in recent years.
"I did not send the money to al-Shabab. Al-Shabab was a vehicle used to get the money to the needy. It was not used for their own purposes," Ali said.
[…..]
Ali and Hassan were among nine people sentenced this week for their roles in the federal government's long-running investigations into terrorism recruiting and financing for al-Shabab.
Let the civilians die!
The government's key evidence included hundreds of hours of recorded phone calls, obtained during a 10-month wiretap on Ali's home phone and cellphone. In one call, Ali told others to "forget about the other charities" and focus on "the jihad." In another, she said, "Let the civilians die."
[…..]
"A significant sentence would serve as a warning to others among the diaspora lest they believe that similar grass roots fund raising on behalf of a designated terrorist organization is a viable avenue to bringing stability and humanitarian relief to Somalia," prosecutors wrote in documents filed before the sentencing.
Note to refugee advocates who want to make refugee resettlement available to all Afghan women:  Women are just as likely to be Islamic troublemakers as are the men.  Have we already forgotten about the charming Mrs. Tsarnaev?
Why so many Somalis in Minnesota?  Because the US State Department and "church" contractors began a seed community there—see one of our most-read posts here at RRW.