They were just so excited about voting they did it more than once!
In our previous post we reported the latest conviction in the Somali missing youths case.   And, now (hat tip: Cathy) we learn of another criminal case involving Somali women in Minnesota—this time for voter fraud.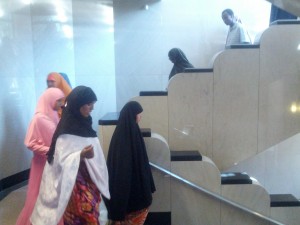 From Faribault Daily News:
About 50 men and women packed a Rice County courtroom Tuesday afternoon as two Somali women pleaded not guilty to charges of voter fraud stemming from the general election last November.
Farhiya Abdi Dool, 38, and Amina A Hassan, 31, each face one felony charge of unlawful voting for voting once by absentee ballot and once at a polling place during the 2012 general election. Each woman faces five years in prison and a $10,000 fine for the offense.
The women, both naturalized U.S. citizens, were charged June 21.
With Minneapolis-based defense attorney Julie Nelson at their side, Dool and Hassan each entered a plea of not guilty on Tuesday afternoon. As was the case with their first court appearances, the women were backed by family members, friends, neighbors and advocates all listening closely to the proceedings.
Supporters of the women say that their actions were an honest mistake that should not be punished with a felony charge. Nelson took the defense a step further during an interview after the hearing.
Somehow because they came to this country as refugees they should get a pass???  Americans are offended!

"I find it offensive that these women have been criminally charged," Nelson said. "These women came to this country, they are naturalized citizens, and they wanted to vote."
Nelson said she expected the outcome of the cases to have a "chilling effect" on the Somali community.
We sure hope it "chills" the voter fraud in the "community."  This isn't the first time we have reported on fraud in the "Somali community" going back to Al Franken's victory in that 2008 contested Senate race.  There was also a case of alleged Somali voter fraud in Kansas that actually may have swung the outcome of a race, here.  Then there is the Ohio case.  See a pattern?
Don't you wonder how refugees become citizens when they can't understand English.  How did they pass the test?
We have a couple of posts referencing Faribault.  This is one about Somalis moving into small town Minnesota and opening businesses with your tax dollars.  And, here is another about CAIR suing a dessert maker somewhere nearby about the Somali workers and the dress code.