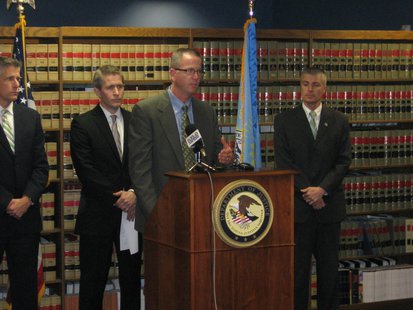 Horrible story!
Gee, wonder what these refugee criminals cost the local court system in Sioux Falls, SD?
And, who is resettling refugees in South Dakota?  Oh, it's the Lutherans again!
But, but, but, didn't Wyoming's governor just say yesterday that refugees are screened before getting here?  Tell that to the woman in Colorado, or how about the people of Kentucky.
From the Argus Leader (hat tip:  'pungentpeppers').   No shyness here at the Argus Leader about labeling them refugees!
***Update*** To have a look at this "monster" go to a news clip sent to us later in the day by 'pungentpeppers.'
An Iraqi refugee who sold several women and girls for sex at his Sioux Falls apartment will spend the rest of his life in prison after U.S. District Court Judge Karen Schreier agreed with victims who called him a "monster."
A jury convicted Mohammed Alaboudi in December on four counts of sex trafficking. His lawyer asked for the same 30-year sentence given last April to a co-conspirator, Emannuel Nyoun. But the judge noted that Nyoun had victimized just one young woman, while Alaboudi had hurt many, many more.
House of horrors!
Four victims, identified only by their initials, recounted during Monday's hearing the physical and sexual abuse against them at the hands of the 45-year-old Alaboudi. Earlier at trial, many of them had testified how he had given them drugs and shelter to lure them into dependency and prostitution, using his one-bedroom apartment in central Sioux Falls as headquarters for what U.S. Attorney Brendan Johnson has called "a house of horrors."  [How much do you want to bet his apartment was subsidized by the taxpayers!—ed]
[….]
The defendant, who purposely drugged the girls and raped them repeatedly, then allowed his cohorts to come in" and do the exact same thing, Koliner said.
One of the victims who testified Monday, a young woman named S.J., said Alaboudi would call them "worthless." She said she was "used as a toy over and over."  [Worthless because they were infidels to him?—ed]
"I couldn't clean myself enough; it didn't work," she said. "Me, at age 14, was locked in a room with a man I had never met before, and I was forced to have sex with him."
As I have said before, if the US State Department had to pay for expensive criminal trials and incarceration of refugees they agree to resettle, it might make them and Congress take notice!